---
NOW AVAILABLE ON VIDEO:
New From E Patrol Kids' TV: The Real-Life Adventures of E-car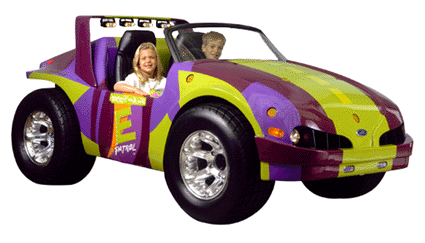 Created especially for today's eco-savvy six-to-12 year olds, The Real-Life Adventures of E-car is the latest broadcast production from the creators of television's E Patrol.
Featuring Willie Aames ("Eight Is Enough", "Charles In Charge") as the voice of E-car, the original live-action high-energy half-hour documents a real-life tour through America's heartland to teach kids and their parents about recycling.
The colorful, kid-sized E-car, a "talking" environmental exhibit, was the runaway hit of the E Patrol Recycle Rally that traveled from Dallas to Detroit earlier this year. The one-of-a-kind E-car shared environmental information with school-age children by means of 10 pre-programmed CD players and a DVD video system. E-car is currently a popular display at the Automotive Hall of Fame near Detroit.
In the new video production, E-car takes young viewers with him to classrooms, aquariums, zoos and museums, stopping along the way to show how common household materials can be recycled into useful items. His message for the enthusiastic young people who greet him in each city is "Kids Have The Power!" -- through simple, honest and unselfish actions, children can make the Earth a better place for everyone.
The Real-Life Adventures of E-car was produced by PlaNet Productions, Inc. and underwritten by Ford Motor Company, AlliedSignal Plastics, Wellman, Inc., the Steel Recycling Institute and Ford Windstar. PlaNet has syndicated 30-second E Patrol environmental vignettes to U.S. TV stations since 1994.
The new E-car half-hour "edu-tainment" is being provided to E Patrol TV station partners for market-exclusive broadcast and is also available on video to school, scouting and community groups. For a VHS copy by U.S. Priority Mail, send $22.95 ($19.95 plus $3.00 postage) to "E-car Video," PlaNet Productions, Inc., P.O. Box 4018, Olathe, KS 66063. Offer is limited to U.S. addresses only while supplies last.

---
---
©1998 PlaNet Productions, Inc