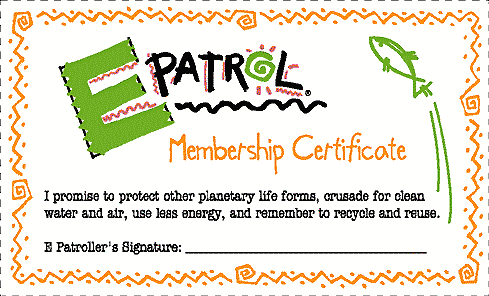 ©1997 PlaNet Productions, Inc. "E Patrol" is a registered trademark of PlaNet Productions, Inc.
Want to become a member of the international club for kids who care about the Earth? Just take the E Patrol pledge.
You do not have to reveal any personal information over the internet. Simply print a copy of this certificate. Take the pledge by reading it to a parent, teacher or friend. Then sign your name.
Got news or ideas to share with other E Patrollers?
Zap it to epatrol@unicom.net.
Or mail it to:


E Patrol
P.O. Box 4018
Olathe, KS 66063
Remember, you have the power to help our planet!
---
©1997 E Patrol Foundation