Environmental Education & Innovative Sales Support
During the six weeks leading to Earth Day, alternative fuel and promotional Ford vehicles traveled to Dallas, Tulsa, Wichita, Kansas City, St. Louis, Chicago and Detroit to support local recycling and environmental awareness, and to encourage the purchase of recycled-content products -- especially the cars and trucks of Ford Motor Company.
A featured attraction was E-car, the E Patrol Talking Car, a unique, child-sized educational exhibit equipped with audio and video recordings presenting kid-friendly facts about Ford's environmental achievements.
"Welcome to the future, courtesy of Ford."
-- Wendy Erikson, "Show Me St. Louis," KSDK-TV, St. Louis
E-car was immediately popular, especially with the media and camera-carrying families. During this inaugural tour, E-car was responsible for thousands of snapshots of children in, on and around the little two-seater. E-car was such an obvious hit with children, in fact, that event staffers assigned to deal with the crowds soon dubbed it "The Kid Magnet."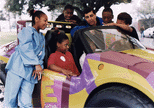 The instantly popular E-car became known as "The Kid Magnet."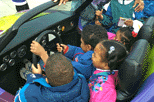 E-car was equipped with a DVD video system and ten CD players
Presenting Ford Cars & Trucks To A Receptive Audience.
Adult visitors were attracted to an electric Ranger exhibition clamshell and an F-250 CNG pickup decaled in the distinctive Ford/E Patrol Recycle Rally design. Ford and PlaNet personnel were on hand to present information and answer questions about the alternative fuel vehicles.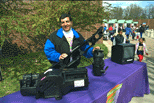 Andy Acho delivered the Eco-Story with props, facts, and smiles.
Demonstrating a familiar consumer end use of recycled materials, recycled-content parts from the Mustang and other Ford vehicles were on display, as were four new production vehicles -- the Explorer, Sable, Mystique and F150 -- selected for their recycled content.
This particular promotion really hit home. We need to do more like it. It helps us get in touch with families."
-- Maureen Jackson, Paul Cerame Ford, St. Louis
The Ford/E Patrol Recycled Parts Playground stopped kids and adults. This life-size hands-on display presents the common household sources for recycled-content Ford automotive parts. As they did with E-car, kids happily posed for family photographs in this novel exhibit.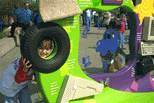 Kids posed for family snapshots in the Recycled Parts Playground.
Dressed in official event colors and design, the tractor-trailer carrying the exhibits and promotional premiums performed dramatic double-duty as an event backdrop and rolling highway billboard.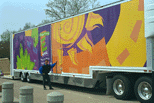 The E Patrol road show stopped at dealers, schools, museums, and zoos.
During the week preceding each metro-wide public event, E-car and the other exhibit vehicles, including the tractor-trailer, were displayed at selected Ford and Lincoln-Mercury dealerships. The tractor-trailer commanded attention from all those who drove by. The pickup and E-car kept visitors in the showroom. The three-vehicle combination also generated news coverage about the dealership and Ford's alternative fuel vehicles.
Other dealerships in the Rally cities were provided with tie-in materials, including posters, flyers, videotapes, T-shirts and static clings. These items promoted attendance and associated dealers with the abundant Rally media. They also called attention to the Earth-friendly use of recycled materials in all Ford and Lincoln-Mercury vehicles.
Ford Invited Into Elementary School Classrooms
On the day before each free public events, previews were given to public and private elementary schools. The special Ford/E Patrol vehicles greeted kids, parents and buses at the school entrance, and over the next two hours presentations were made to each first through sixth grade class.
Ford/E Patrol membership cards were handed out to all the students. Recycle Rally T-shirts were given as prizes to those who correctly answered questions about presentation content.

"Recycling is crucial to our environment and Ford Motor Company is doing something about it."
-- George Siegel, "News Beat Today," WDIV-TV, Detroit
A trophy was awarded to the school in each Rally city whose students recycled the greatest number of plastic bottles. In Detroit, more than 230 schools recycled plastic bottles. In Chicago, the Friday preview took place outside The Children's Museum on Navy Pier.
Rain, Shine Or Snow, Families Came To Ford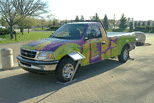 Ford's F-250 compressed natural gas pickup led the way for 1,600 miles.
While weather no doubt influenced attendance at these outdoor events, it was not the overriding factor. Rain main have discouraged some potential Rally visitors in St. Louis, but at the kickoff event in Dallas, where it rained heavily, lines of families carrying pop bottles began to form half an hour before the event was scheduled to begin. In Wichita, a surprise blizzard hit the day before, closing the airport and schools, but as the city dug out on Saturday, attendance was strong throughout the day, with hundreds arriving early. Where the sun shone brightly, as it did in Tulsa, Kansas City, Chicago and Detroit, the numbers consistently exceeded predictions.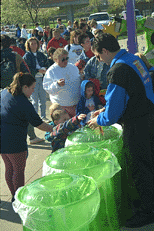 Thousands of empty plastic two-liter bottles were recycled locally
From the first Recycle Rally in Dallas on March 7 to the conclusion in Detroit on April 18, more than 10 thousand recycled-content Ford/E Patrol T-shirts were given to youngsters who brought plastic bottles for local recycling or who pledged to reuse and recycle.
"It was a great day ... a very worthwhile experience."
-- Margary Morse, University Liggett School, Detroit
An estimated 25 thousand Ford/E Patrol membership cards were distributed to youngsters in the seven Rally cities. In the cities where zoos normally charged admission, these newest E Patrol members presented their cards for discounted admission.
Ten thousand E Patrol posters bearing Ford and Lincoln-Mercury logos, printed on recycled paper and backed with an easy-to-photocopy environmental curriculum, were provided to thousands of elementary school classrooms in the Rally cities.
Thousands of premiums, including Ford caps and recycled pens, and E Patrol backpacks, lunchbags and stickers, were also given away.
In some Rally cities, Coca-Cola bottlers supported the event with media, product and incentives. In Detroit, Coca-Cola Enterprises tagged its regular radio schedule with Rally announcements and gave away a thousand Detroit Tigers tickets to those recycling Coca-Cola brand plastic bottles.
Kid-hosted TV Messages Set Stage For Ford's Arrival
A series of twelve 30-second television messages produced by PlaNet Productions called E Patrol Members Only!, was broadcast by E Patrol TV station partners in Dallas, Tulsa, Wichita, Kansas City, Chicago and Detroit. These kid-hosted vignettes about the environment contain billboards for local sponsor identification.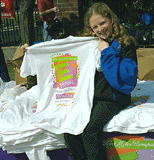 The Recycle Rally T-Shirt was made from four recycled plastic bottles.
" Thank you for the recycled T-shirts ... we all wore our shirts to science class."
-- Molly Walsh, 4th Grade, Walnut Grove School, Kansas City
Some cities had many local sponsors. The Boeing Company sponsored the series in Wichita. In Detroit, Ford was exclusive sponsor, using the TV billboards to invite viewers to the Rally.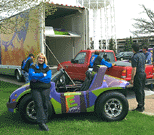 E Patrol founder Laura Lombardi produced the marketing events.

Promotional Announcements Ran All Day, All Week
E Patrol TV station partners also supported the event with 10-second and 30-second promotional announcements. Scripted by PlaNet and produced by the station partners, the commercials ran throughout the day during the week preceding each event.
In Chicago, a half-hour video documentary of a 1997 E Patrol recycling event featuring the Ford Windstar, The E Patrol Bottles 4 T-Shirts Tour, was broadcast the day before the Recycle Rally.
The event was featured on a number of public service programs, including Chicago's "The Homework Show" -- mandatory viewing for area students -- and St. Louis's popular guide to weekend entertainment, "Show Me St. Louis," among others.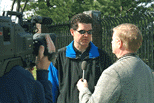 John Nens shepherded the project from idea to successful conclusion.
E Patrol TV partners and many other local television stations covered the Rally as a news item or community feature on their morning, noon and evening news programs. Radio coverage was equally extensive, with live and recorded interviews and promotional announcements on a dozen or more stations in each of the Rally cities, and live remote broadcasts in some.
"Ford Motor Company (uses) a talking car to teach the children, but it's the parents who really learn."
-- Valerie Sukovaty, "News 8 Saturday," KTUL-TV, Tulsa
The Rally was announced with thousands of letters, press releases, press kits, faxes, flyers and media alerts to the broadcast media, and to newspapers, consumer magazines, trade magazines, syndicated writers, institutional newsletters, zoo members, educators, Camp Fire, 4-H, Scouting and other community groups. Pre-awareness efforts began in 1997 and by January of 1998, press materials were being distributed daily, an activity which continued uninterrupted through April.
Widespread Media Response To An Eco-Friendly Ford
The print media responded with features, items, photo captions and calendar entries. Pictures of a kid-filled E-car, often in full color, appeared on magazine, newspaper and newsletter pages. E Patrol TV stars were featured in hometown and family magazines and daily TV listings. The syndicated children's color comics-page feature "Yak's Corner" was twice devoted to the Ford/E Patrol Recycle Rally.
Many of the materials created for the Rally were posted on the popular E Patrol site on the World Wide Web, with updates posted every Monday. Both Ford and Sprint placed ads for the Recycle Rally on their corporate home pages and hot-linked the E Patrol website to their own. Rally news was also presented on the websites of zoos, TV stations, newspapers and educational services.
Twenty-five thousand people attended the Ford/E Patrol Recycle Rally
A professional video and sound crew accompanied the Rally team to each school presentation and public event, conducting interviews and taping activities in preparation for the production of a half-hour television documentary.
Pilot Project Connects With Seven Million Households
During this inaugural tour, approximately 4,000 elementary-school students attended an E-car presentation; an estimated 25 thousand people attended a Ford/E Patrol Recycle Rally; and some seven million households received one or more positive messages about Ford cars and trucks as a direct result of this event.
"Dear Ford: I went to the Recycle Rally. I enjoyed it very much. So did my family. We are looking to get a Ford truck. Thanks for helping the environment."
-- Shawn Gray, Carrollton, Texas
The Ford/E Patrol Recycle Rally was a successful collaboration among hundreds of professionals. The 1998 events were sponsored by Ford Motor Company, produced by PlaNet Productions, Inc., directed by Ford Motor Company Marketing Programs and assisted by Ford Motor Company Environmental & Safety and Ford Motor Company Public Affairs.
Follow the link below to visit Ford Motor Company on the World Wide Web

---